Static Converter High Power 4.0kW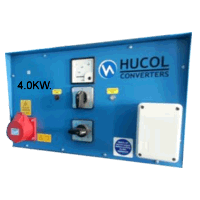 £600.00 ex Vat
Static Converter 5.5hp/4.0kW - HD - Single to 3 Three Phase 240v to 415v
Key Features
Part Number STC4KW240V-HD
Single or multi-motor operation
1 x 16A plug included
Dimensions - 30cm (h) x 46cm (w) x 31cm (d)
Weight - 30kg
2-YEAR WARRANTY
Starting current limited to 3-4 times full load current of the motor
Cost-effective
ISO9001:2008 quality assured manufacturing facility
CE marked
Manufactured to BSEN ISO 61000-3-2:2006
---
The Rotary Converter is ideal for a workshop environment where either more than one machine is operated at any one time or a particular machine incorporates more than one motor.
Input Voltage 220/240-volt 50Hz
Output Voltage 380/415-volt 50Hz
Single-phase supply requirement 25A - Type "C" Motor rated breaker
Output frequency is fixed so motor speed is fixed
Output retrofits directly to existing wiring loom so no modification to machinery is necessary
Flexible single or multi-motor operation.
Fully automated so no operator input required.
Facility for upgrading to larger capacity unit within same frame size.
This "HI-TORQUE" static converter has a maximum load of 4kW, a single motor maximum of 3Kw and a minimum load of 0.55kW. It is compatible with applications such as machine tools with single-speed motors, compressors and car ramps.
Please contact us for guidance as to whether the unit is compatible with the application you wish to operate from the converter.